2021-10-27
Black Friday Shopping Checklist!
Its nearly November, which means that the biggest online shopping event of the year is just around the corner! Black Friday will take place on Friday 26th November 2021 this year! Are you ready?! We have prepared the following guide to help you navigate the festive shopping period and ensure that you get everything you need!
Research products ahead of time!
We would always advise customers to research products before they buy them, taking care to read other customer reviews to get a clearer idea of an item's suitability. Just because customers find cheaper products than other competitors, this does not mean they should buy it straight away.
Make sure to check the price history of any products of interest; there are useful tools like CamelCamelCamelor PriceRunner that consumers can use to determine how much a product has actually been sold for in the past so they can decide whether the discounted price actually represents real value.
These kinds of tools will also show you alternative stores where items can be purchased – this can mean that, should it sell out in one location, you will have a list of several others to choose from to ensure you don't miss out!
Don't wait until the day to set up your shopping accounts!
it is not uncommon for websites to crash during peak shopping seasons or for deals to sell out in minutes. Don't waste valuable time registering accounts during such times. Pre-register well in advance, set up payment and delivery options to ensure swift purchasing the minute that amazing deals go live.
And be sure to remember that the best Black Friday sales start very early in the morning; with the most coveted items often flying off the shelves before 10am. Websites will be full of customers trying to find the best deals at these times so account for slower loading times, queues and intermittent crashing.
Avoid unscrupulous websites
Black Friday always sees a rise in fraudulent or immoral retailers and websites seeking to gain from trusting and inexperienced online shoppers. Therefore, it is important to take note of SSL encryption certificates when visiting a potentially new and risky website. SSL encryption makes it harder for hackers to capture your data. Should you be shopping on a website without an SSL certificate, we would strongly advise that you don't disclose any important information.
Set a budget and create a Wishlist
This may seem like a simple suggestion but going into this period with a strict budget and clear indication of what you need to buy and can afford to spend is of paramount importance. Retailers will be doing their very best to bombard you with ads and promotions designed to entice the customer into spending more and impulse purchasing things they had not intended to buy.
It is very easy to get lost in the excitement of the sales and can quickly come away having spent more than you had indented. Creating lists will allow you to calculate your spend ahead of time and if you are strong willed you can find everything you need for that exact amount!
It's time to get social
The social media accounts of your favourite retailers are the best platform to find out about secret sales, early access promotions and exclusive deals and discounts on a range of products. Also, by signing up to a stores newsletter or mailing list you may receive alerts and promotions ahead of other customers, giving you exclusive access to some of the hottest intel.
Are you following EshopWedrop on Facebook or Instagram yet? We often scour the internet for the very best deals, so you don't have to!
Social media also allows you to share the best black Friday deals with your loved ones so start sharing today!
This year, to combat the very real issues faced by all of us, EshopWedrop have decided to do something a little different for Black Friday! Existing customers, make sure to log in to your account on November 1st to see what we have in store for you! We are hoping this will allow everyone to make the very most of the festive shopping period this year!
Haven't registered with EshopWedrop yet? Create an account with us between Monday 1st November and Tuesday 30th November 2021 to take advantage of our exciting news! All will be revealed next week!
Should you have any questions concerning Black Friday, please do not hesitate to get in touch and a member of our support team will be glad to help.
Stay safe and enjoy your shopping,
Your EshopWedrop Team
Sign up today and receive your first EshopWedrop delivery from any online shop in Europe or USA for FREE!
Shop from USA & Europe Receive in Cyprus
1st DELIVERY FREE
By using the Eshopwedrop website you agree to our use of cookies as described in our cookie policy. Read more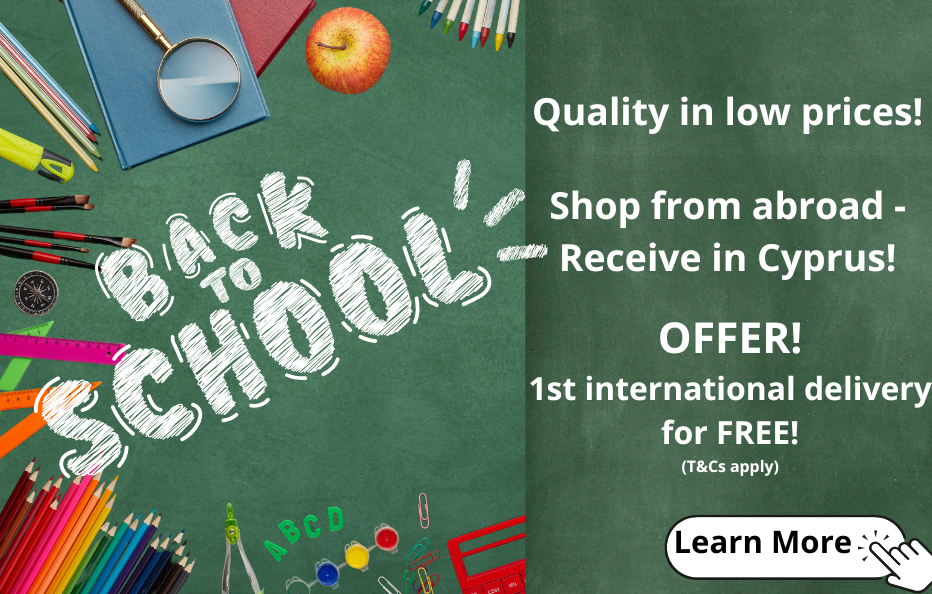 Please wait while we will validate your ZIP code